Why do you need to clean your sleep machine?
You use your CPAP for eight hours per night. Room air goes into the machine, filter, tube, mask, and nose. Your CPAP machine works hard to send constant air pressure into your airways. Over time, dust, allergens, germs, viruses, and other harmful pathogens can collect in the machinery. Then as moisture and humidity collect on the inside of your CPAP, it turns into the perfect breeding ground for mold and bacteria.
The potential risks with unsanitary equipment may also include direct exposure to bacteria, viruses, and moulds, increasing the possibility of nasty colds, sinus infections, and even pneumonia.
Introduceing LEEL CPAP Cleaner
LEEL CPAP cleaner is our best-selling CPAP cleaning machine for the past five years. We have been improving our product and service all the time. 
Ultra Compact-4.7x1.95x1.95 inch
Drying Disinfection: safe activated oxygen to sanitize thoroughly
More Reliable: Destroys 99.9% bacteria safely and quickly
More Powerful: 8+ sanitizing cycles per charge
Easy to operate: One-button Cleaning; Fast charging technology
All-in-One: Includes everything required
✅Safe and controlled activated oxygen disinfecting: LEEL CPAP cleaning device is proven activated oxygen kills 99% of germs, bacteria, and other pathogens. You can sanitize your CPAP machine, mask, and tubing entirely through a stream of controlled activated oxygen for approximately 20 or 30 minutes.
*The same technology is widely used in medical and other cleaning industries.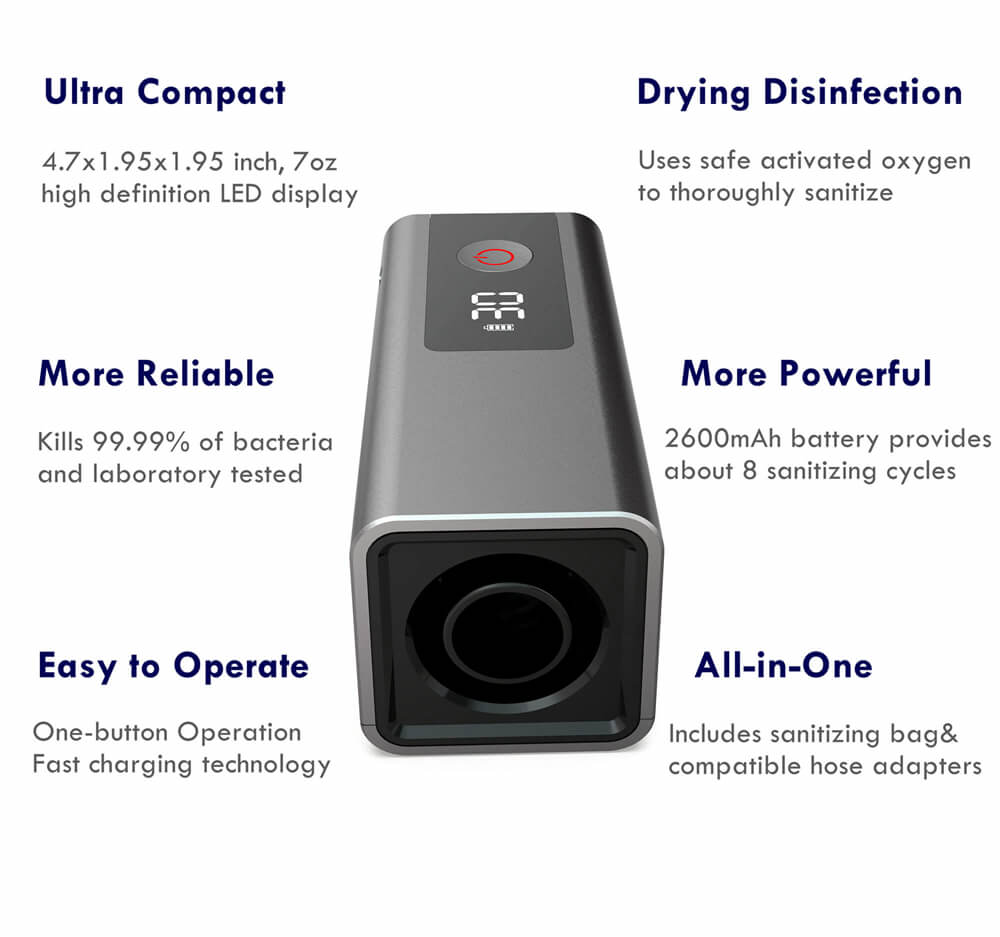 ✅Odor eliminating technology: The LEEL O3 CPAP cleaner has optimized its sanitization cycle to 20/30 minutes.
The 20 minutes cleaning cycle includes 15 minutes of activated oxygen sanitizing and 5 minutes of fresh air blowing;
The 30 minutes cleaning cycle includes 20 minutes of activated oxygen sanitizing and 10 minutes of fresh air blowing.
✅Portable and lightweight CPAP cleaning machine: 4.7 x 1.95 x 1.95 inches. Palm-size CPAP cleaner. Perfect for home and travel use. Large LED display screen for easy to check the time and power consumption.
✅Easy to operate: One button start and automatically shuts off when the sanitizing is finished. 
✅LEEL CPAP Cleaner Saves Your Money & Time:
High Capacity Battery: 8+ cleanings on a single charge. Most CPAP cleaners on the market offer 4-6 cleaning cycles for every single charge. 
No Need To Replace Filter: LEEL CPAP cleaner works with a built-in ozone generator, which could last for years. The entire carefree and dry cleaning process requires no water, soap, or harmful chemicals. No Recurring Costs. 
✅Universal Design & Includes Everything Required: The LEEL CPAP cleaner comes with 2 hose connectors that ensure compatibility with virtually all CPAP/BiPAP machines available on the market today.
LEEL CPAP cleaner works with the most popular CPAP machines and sleep equipment manufacturers, especially for ResMed, Phillips and others because of its included adapters and automatic features. It even works great with your portable CPAP machine when traveling.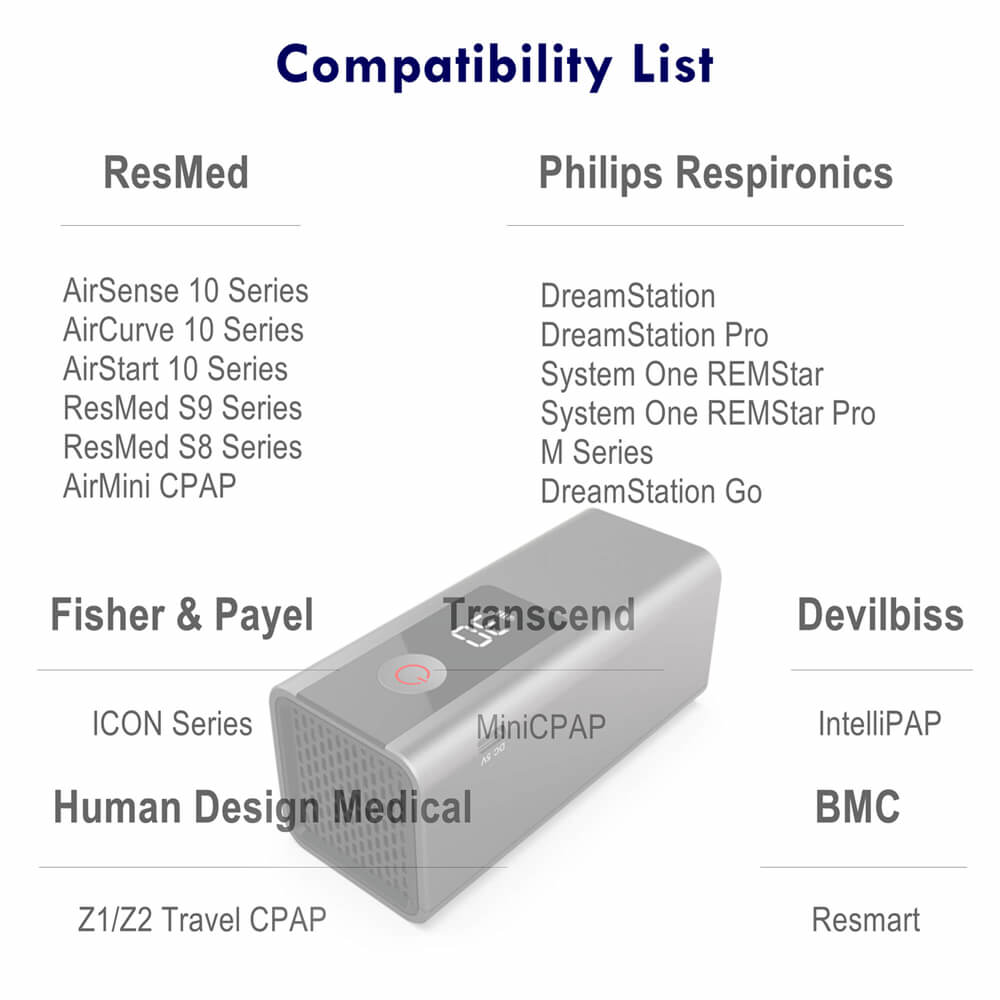 ✅Ship From the US Local Stores: Most packages are shipped from the US local warehouses. Packages will be shipped out within 2 days and delivered within 3-5 working days. Say goodbye to slow delivery!
Note: the delivery time depends on your shipping address and product status.
✅What You Will Get?
LEEL CPAP Cleaning Machine
LEEL Sanitizing Bag
User Manual
USB Charger Cable
Power Plug
Adapter & Connector
Why choose LEEL CPAP Cleaner? 
Automatic Cleaning CPAP
Kills 99.99% of germs and bacteria in only 20/30 minutes!
Requires no soap, water, or cleaning solutions
Small and portable, weighing only 16 ounces
Ultra quiet
Uses Ozone (activated oxygen) to disinfect
Rechargeable lithium ion battery with a 5-year life
Charging time only 2 hours
Each charge give you no less than 8 full cleaning cycles
Requires no maintenance
Ideal for homecare, but can be used to clean multiple masks in a hospital setting
30-day money-back guarantee
Customer Reviews
LEEL vs. Solid Cleaner
I ordered the LEEL cleaner. When I placed the order, I was told that they were out of the grey item and that the white one was available. I ordered the white one with the understanding that it was a LEEL. I received my order. It was a Solid Cleaner not a LEEL. All information for the item has contact information for Solid Cleaner not LEEL. I tried to seek advice to return the item and have it replaced with a LEEL but was unable to resolve the issue. Therefore, I am very unhappy with this experience and would not recommend that someone order from your website.
09/07/2022
Alice G.

United States
Very good. I'm trying it for the 2nd time. It seems to do the job. Thank you for the quick delivery.
08/17/2022
Anonymous

United States
clean cpap
have usedonly2 times so far. It really cleaned my cpap well. I was surprised at how much dust was blown out of my machine, i always use a foam and micro filter too. since I started cleaning it with the leel I have a lot less congestion in the morning. Now we will see how long the leel will last.
08/09/2022
Donald K.

United States
Level CPap cleaner
Excellent. I would recommend it anytime.
07/22/2022
Rob S.

United States
After one week, seems to be fine. I wish the bag would have been a little larger to accommodate a water chamber.
07/19/2022
David M.

United States
easy to use
i really like my new cleaner.
06/23/2022
Anonymous

United States
Already recommended it to my sister!
This is a quality product and have recommended it to my sister. She also purchased one and is very happy!
Thank you so much for your support and trust.
06/20/2022
John D.

United States
Great Product
Recommended by a friend, I love my new cpap cleaner. Fresh every day.
05/22/2022
Robert L.

United States
I joke it
I like it. But I asked a question about the the 4 filters that were included. Do they need to be used when I have not connect the hose from the CPAP to the device?
Hi, thank you for shopping with us. The carbon filter is an optional accessory. Please check your email for more details.
04/20/2022
Joe K.

United States
Good but could be better
I purchased the LEEL O3 to replace a Soaclean2. I did not realize that I needed to buy additional attachments to fully clean my entire unit. The Leel ad initially said no filters were needed only to find out that you do need to replace a filter once every 3 months. The filters for Leel are still less money than Soaclean, but they were not very forthcoming in their ad. The unit does clean but I need to run two cycles to clean both my unit and mask when I only needed to run one cycle with my Soaclean. The Leel O3 does take up a lot less space than the Soaclean 2 did.
04/13/2022
Catherine

United States
Second unit
This is my second unit, I purchased my first unit over 1.5 years ago. This little thing works great.
04/13/2022
Margaret

United States
Like it
I like that this is so portable and you can take it wherever you go. Especially trips that requires a few overnights.
04/02/2022
Erin

United States
All attachments work perfectly
This cleaning device is quick and easy to use. After a charging the machine, I put it to use. My CPAP machine was sterilized and ready to use in just minutes. It works great.
03/20/2022
Brian

United States
What about water chamber?
Just purchased the pro and have been loving it so far! I was wondering if it is recommended to empty the water chamber when cleaning the machine or can I leave the water in it? My routine has been emptying the chamber every morning setting it out to dry and then run the cleaning cycle in the evening. Is it necessary to empty the water?
03/19/2022
JOHN F.

United States
Product works but battery won't stay charged
I like the product the only issue is that I have to keep it plugged in because the battery won't stay charged.
01/25/2022
Linda W.

United States
Nice Little Cleaner/Sanitizer
Easy to use, but I found the cord to be a little shorter to reach my plug. Would recommend it for the price and value.
01/07/2022
John P.

United States
I recommend this product
Excellent Cpap cleaner !
This product is very easy to use. It does an excellent job and is very inexpensive. I am able to connect everything together in less than 30 seconds and then just push the button. Very happy with this. I am looking forward to acquiring a T adapter which will make things even easier to use!
11/23/2021
sharon d.

United States
I recommend this product
Great CPap Cleaner
Very easy to use....is done in 30 min!!!! My sinuses are clearer...easier to breathe through my nose. I would highly recommend this product!!!!!! Also received product in just a few days after ordering it.
10/28/2021
Daniel N.

United States
I recommend this product
Love it
I clean my CPAP every morning by just #1 spraying alcohol on the nose pads of my CPAP then put it in my machine and then start it up and leave it all day then at night before bed I take it out and use it, no smell, other than a clean sensation. I really like it and this is my second machine. I will be buying it again when I need it.
10/23/2021
Anonymous

United States
I recommend this product
CPAP Cleaner
Great. It works as advertised.