Why Choose SolidCLEANER CPAP Cleaning Machine?
The SolidCLEANER is a portable and rechargeable CPAP/BIPAP sanitizer with convenient use and rapid cleaning at home or while traveling.
You can use SolidCLEANER for an easy way of sanitizing your CPAP equipment and accessories when you are tired of cleaning your CPAP mask and hose manually.
✔Automatic CPAP Sanitizer: No complicated assembly procedures and easy setup within 1 minute. Then you could clean your sleep apnea machine and all accessories in one step with SolidCLEANER. One button start and auto shut-off;
Tips: The SolidCLEANER has optimized its sanitizing cycle to 20 or 30 minutes which generates enough time for activated oxygen sanitizing and fresh air blowing in to reduce the ozone odor left in the last stage.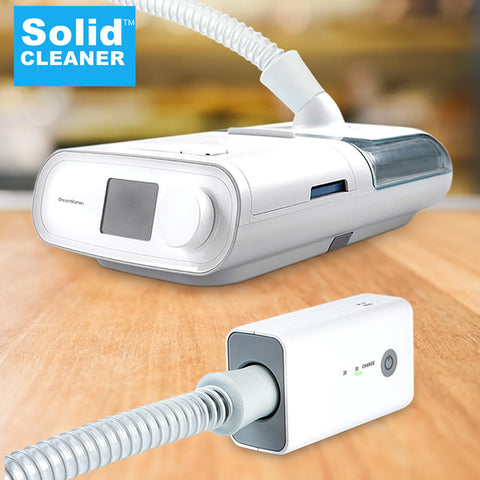 ✔Ultra-Clean: Solidcleaner is built in an ozone generator that produces ozone to kill 99.9% of the germs and pathogens in your CPAP hose, mask, and sleep equipment machine & reservoir. Say goodbye to messy liquids and chemicals. Fast and new CPAP cleaning method.
✔High-Capacity & Rechargeable Battery: Built-in 2600mAh high-capacity battery provides approximately 8 cleaning cycles with a single charge.
Highlights: No maintenance is required.  Other CPAP cleaners on the market usually offer 4-6 cleaning cycles. Solid CPAP cleaner could power for months.
✔Universal Design & Compatible with All Sleep Equipment. Includes Everything Required, with No Recurring Costs. (Compatible with AirSense 10, S9, DreamStation, and System One). For more information, please check our compatibility list below.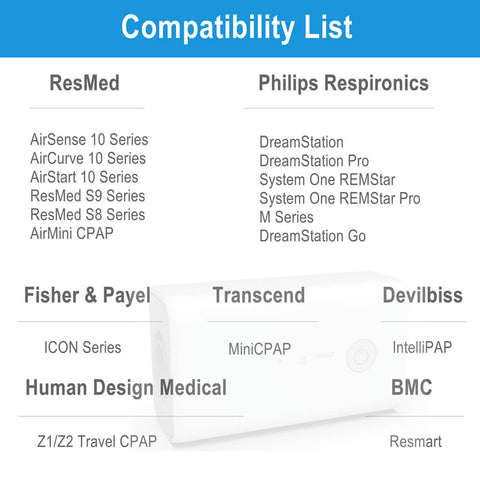 ✔Compact & Portable Cleaning Machine: 4.6X 2.6 inches, 7.5 oz. Perfect for home and travel use;

✔Clean CPAP and Accessories Simultaneously: The T-shaped adapter included enables you to clean your CPAP, mask, hose, and water chamber with one click. No more waiting, Solid makes cleaning easier.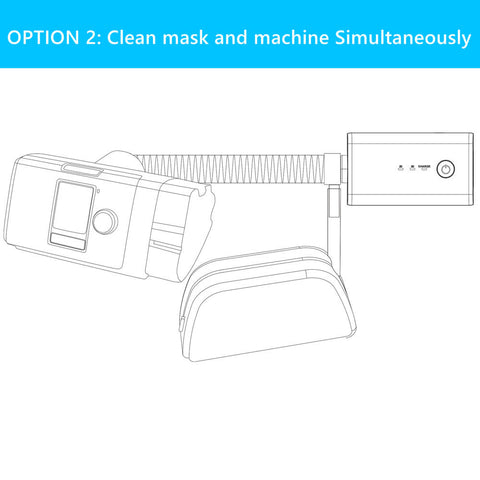 ✔The Package Includes All You Need: CPAP cleaner, Sanitizing bag, New Heated hose adapter, AirMini adapter, USB charging cable, and AC adapter.
What You'll Get
SolidCLEANER CPAP Cleaning Machine;
SolidCLEANER Sanitizing Bag;
SolidCLEANER T-adapter
User Manual;
USB Charger Cable;
Power Plug;
Adapter & Connector
Why Choose SolidCLEANER CC01?
✔30 Days no-risk money-back guarantee
✔12 months free replacement policy
✔US local warehouse free shipping

✔Professional and prompt customer service
✔Give us a chance and we will surprise you. Get yours now!
How to use SolidCLEANER? Check the review video below:
Customer Reviews
07/27/2022
Anonymous

United States
Great product-great service.
Purchased c-pap cleaning machine and am very satisfied with the product. Quick shipping and excellent customer service. Highly recommend Leel!
04/02/2022
Gail

United States
09/08/2021
Jack Y.

Canada
Great value for the money
Great customer service and value for the money
09/06/2021
Dave L.

United States
09/03/2021
Logan N.

Canada
I recommend this product
Excellent product and service
Excellent, makes my mask fresh every day.
09/03/2021
Laurie C.

United States
I recommend this product
Updated. Cpap cleaner and more!
Update. I learned that Resmed voids your warranty if you connect an 03 generator to their machine. I purchased a 15qt container and sanitize all my items in here. It works well and avoids possible damage to the machine. I've now used this productfor a month with no issues. I charge at the end of every week...Very pleased with this product. I've only used it for a week. I was a little concerned about the smell issue. I've since learned that "all" O3 generators leave your belongings with a slight smell. I find the smell comforting. It let's me know, the generator is doing its job. Killing germs and bacteria. Thats why we buy it right? We don't want a respiratory infection. For the price, its well worth it for that peace of mind. If you use a cpap, get one and sleep easy. Great for your toothbrush, mask and other personal items as well.
08/30/2021
Ann H.

United States
Very easy to use
cleans my CPAP machine and tubing effortlessly. Highly recommended.
I recommend this product
TopCpap CLeaner Experience
My overall experience is 10 out of 10….This device is compact and conducive for travel. This is my 2nd device and I literally wore out the 1st device. When it started to develop issues I didn't hesitate to replace it with the latest model. Very simple tp clean your mask and hose on a daily basis, I typically sanitize my machine to include the water chamber at least once per week (Phillips DreamStation).
08/09/2021
mark k.

United States
I recommend this product
After running the cleaner the equipment smells so fresh and clean.
Your equipment smells so fresh! Like it has hung outside on a spring morning.
08/05/2021
Deborah L.

United States
I recommend this product
Cleans good
Works well makes cleaning c-pap tubing ,mask and water container easier to ckean
07/31/2021
Clarence N.

United States
I recommend this product
Great and necessary VPAP accessory! Easily and effectivelty provides the additional sanitation for peace of mind daily use of my ResMed VPAP
Great customer support! Perfect fit Durable T Adapter and Cleaner. Easy to use and reliable. A Must Have for using my ResMed Airsense 10 to the best treatment and hygenic results.
07/12/2021
Burton S.

United States
06/28/2021
Anonymous

United States
06/28/2021
Maggie W.

United States
nice!very convenient
I've only used this a few times, but, so far it seems to be great. My Dad has one of the big machines that was far more expensive and the equipment has a funny smell after cleanings(even after running my machine for a bit). This device is portable and easy to store. I just throw everything with the bag on a hook on the back of my door. My biggest issue is the zipper is hard to zip closed.
06/23/2021
Dwight F.

United States
I recommend this product
This machine is awesome!
I love that it is so convenient to use. Just put it in the sanitizing bag and walk away. No more cleaning with vinegar and water. I'm so happy with this product.
06/22/2021
Linda P.

United States
I recommend this product
Great price & Fast Shipping
My order was filled quickly and shipped as scheduled.
06/22/2021
amie p.

United States
I recommend this product
Works great!
Arrived in perfect condition. Works great!
06/22/2021
Eleisha S.

United States
I recommend this product
Easy to use and travel with
Does a great job keeping my cpap clean.
06/20/2021
Sylvia L.

Canada
I recommend this product
Would highly recommend
This machine is great. Easy to travel with and I love the fact that I can clean my machine, hose & mask all at the same time. Customer service was also great!!
06/17/2021
Anonymous

United States
I recommend this product
Love it !
I feel so much more confident that my cap is sanitized using this machine than hand washing it. I never could get every drop of water out of the tube and I worried about molds and mildews.